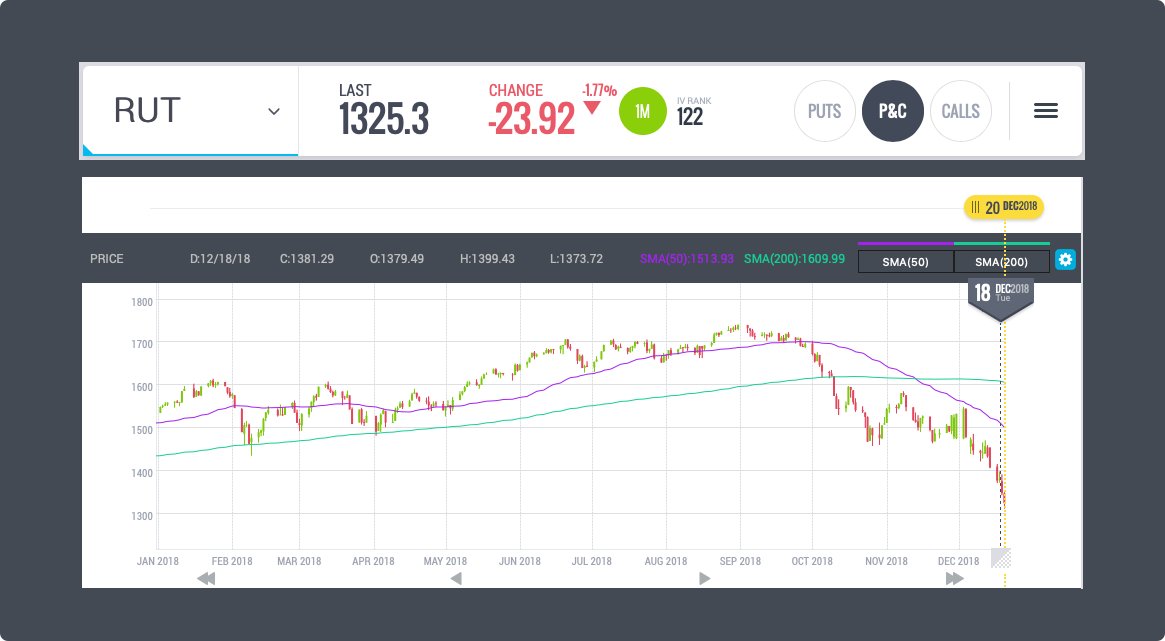 YTD Chart of RUT (Above)
The chart above is of RUT on the year. It's down about 15% as of December 20th and heading down further. This has been a terrible year for many traders, but our Trade Ideas are at yearly highs and ALL-TIME-HIGHS by managing risk with SJ Options methods.
RUT FINISHES 2018 AT YEARLY LOWS
SJ TRADE IDEAS @ YEARLY HIGHS
SJ OPTIONS Max Safety, Max Reward™ Pays Off
SJ Options Trade Ideas are once again at all time highs to finish 2018 with a bang! Simultaneously, the stock market is finishing 2018 at its lows of the year with SPX off by about 8% and RUT down 15%.
It's a great example of how making safety a priority really pays off. In fact, we experimented this year with a calendar and short-term condor for a couple of months and they got into trouble, but guess what, they just finished with a profit because we rescued them with the SJ Options Method. If there's one thing we cannot do, it's force profits out of the market. It's too big and powerful for that.
TRADE IDEAS REACH NEW ALL-TIME-HIGHS AGAIN
The week before Christmas of 2018 the SJ OPTIONS Trade Ideas reached $285,476, which includes all realized and unrealized gains (not counting the Advisor trades).
We've closed out most trades at the moment to take a short break. This year we've already completed 105 consecutive winners with just 3 trades left, 2 in the green.
SAVE TIME & MONEY WITH SJ OPTIONS
What has taken the SJ Options Team 12 years to develop can be yours in just a few hours. We have everything you need to trade these volatile markets successfully, in control, even if 2019 is bearish all year long. There's really no need to worry about the market; you just need a strong foundation, and we are ready to give you that.
HAPPY HOLIDAYS TO ALL AND WE WISH YOU A HAPPY NEW YEAR CELEBRATION!